About the Director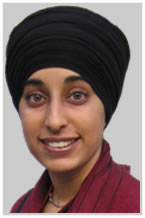 Harpreet Kaur graduated from Pennsylvania State University as a Communications major in 1999. She started off her career working as a News Reporter for a News Channel in the Metro Washington DC area.

In the course of this position she had the opportunity to work with several dignitaries and State officials. Harpreet also produced a show with County Cable Montgomery, which she hosted and directed.

Her personal pursuit is creating documentaries, short films and movies to bring minority issues into the mainstream media. Harpreet has taken the lead role in Sach Productions, a media organization that will become the outlet to fulfill her goals.

In the last four years Harpreet has directed several educational documentaries. In 2001 she received an award for Unique Identity which was aired on public television. In 2002 Harpreet directed The Sikh Identity which was broadcasted on several public stations and was also shown at public schools for educational purposes. One of her latest documentary, We Are Sikhs has had the success of being an official selection at numerous film festivals. Her most current project, Saz of Gurmat Sangit received an enthusiastic response from audiences all over North America. Harpreet's current project, The Widow Colony is one of the most highly anticipated films to be released and is the biggest project she has embarked on.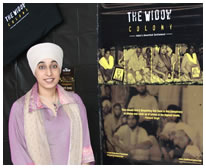 In the process of making this documentary, Harpreet juggled many different roles from director, videographer, script writer to the final stages of editing. While she did come across some technical challenges during production, the toughest was her experience with the widows. Interviewing, comforting and embracing these women, helped Harpreet put together the stories of their lives. It was this human touch that made this documentary possible.

Harpreet quotes, "When no words were exchanged, the silence spoke and those moments were more painful then anything I have ever experienced."
Click on the link below to read the poem Harpreet wrote after three years of working on this project. This is the story that she read on the faces of these women.

Poem: Echo of Tilak Vihar
The Production Crew
Producer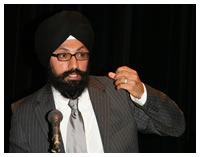 Manmeet Singh is the President of the Sach Productions, a leading media organization. Manmeet's responsibility ranges from pre-production planning, post-production coordination and marketing. In addition to the film work, Manmeet has over two decades of experience in Indian Classical Music and has been involved in community endeavors for over 10 years and is now pursuing macro-level projects that will influence the direction of the Sikh community in India and abroad. While Manmeet aspires to be a full-time filmmaker, he's currently working for IBM as a Program Manager.

Production Manager
Sonia Anguiano has 8 years of experience in film and video production industry. She received a Bachelor of Arts in Communication Arts with a minor in Business Administration from the University of the Incarnate Word. Sonia has been a Production Manager for the last 5 years and has worked on a wide range of projects including commercials, corporate videos, and documentaries. She has worked with many clients including Broadway Bank, VIA, Porter Loring, and Jewish Children and Family Service and has a great deal of experience with all types of productions, crews, and budgets.

Editors
Josh Johnson has a New Media Degree from Vancouver Film School. After working for another Post House in Dallas as an assistant editor, Josh moved to San Antonio for the chance to stretch his legs as an editor/new media guy. He has brought several new skills to the table, from 3D graphics to web design.

Derak Berban has Bachelors degrees in English and Political Science from the University of Texas at San Antonio, as well as an MA in Political Communication and Behavior. Derak has worked as grip, camera operator and editor for a wide range of corporate and commercial clients.

Wesley Hatley has a Bachelor of Science in Radio-Television-Film from the University of Texas at Austin. He has filmed and edited corporate videos, training videos, documentaries, and commercials for clients including Juvenile Diabetes Research Foundation, Jewish Federation, Wildlife Rescue and Rehabilitation and Cavender Chevrolet commercials featuring George Strait.